The Best VR Porn Site article was published on November 25, 2021, by VR Porn Reviews.
Which is the Best VR Porn Site?
In our top VR porn site list, you find a wide selection of websites focusing on virtual reality porn in various porn categories. For this article, I have picked out the virtual reality xxx site that I think is the best going into 2022.
This site has won several awards like 'Best VR Site of the Year', and 'Best VR Scene of the Year' and the site has grown to a network of sites and in my eyes, this site is today the Netflix of VR porn.  Just as Adult time (review by Dark Angel Reviews) is the Netflix of porn.
Wankz VR
What do you get as a member at Wankz VR:
VR Porn in 4K, 5K, 7K, and even 8K quality
588+ Wankz VR Videos
39+ More VR Sites
4500+ VR Videos
1500+ VR Pornstars
This is the largest collection of premium VR porn on the internet today, with only one membership you get access to all this. So no wonder they call this the Netflix on VR porn.
VR Websites Found Inside This Giant Network
Sometimes you join a premium porn membership site and they will give you access to several other sites. But the problem can often be that the bonus sites fall under another niche that you might not be so interested in. But at Wanks VR all the bonus sites are actually in form of VR porn, so I bet you that you will enjoy most of the videos inside this large VR porn network.
Here is a small selection of sites that you will get access to once you have subscribed to Wankz VR.
Virtual Real Porn
TMW VR Net
Sexy VR
Reality Lovers
MILF VR
PerVRt
POVR
Trans VR
Amateur Couples VR
This was only a small selection of the 39+ websites members get access to.
The Low Membership Price
You would think that joining such a large network would be much more expensive than joining a single site, right? But that is not the case, just as with Netflix, they have gone for a low price even. Meaning for basically the same price you pay for a subscription at any premium porn site, where you pay about the same monthly fee but you get to enjoy the Netflix of VR porn.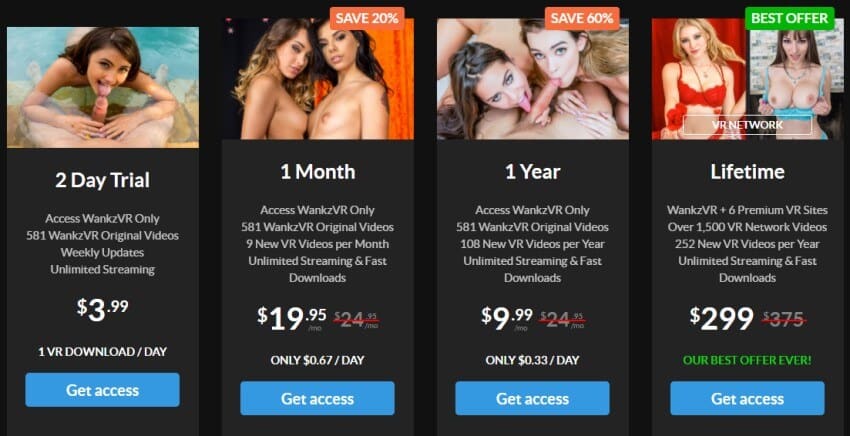 As you see in the image above the prices are really low if you go for the annual or lifetime membership.
$3.99 – 2-days trial
$19.95 – 1 month
$9.99 – 1  year
$299 – lifetime member
The Best VR Porn Site Summary
No other site gives your more value for the bucks when it comes to both quality and quantity in delivering premium VR porn videos. Being the Netflix of VR porn this will basically be the only site you need when it comes to watching virtual reality xxx videos online.
For more details about the site, you can check out our full Wankz VR review or follow the link below and start exploring this top virtual porn site on your own.