JVR Porn Review was updated on March 22, 2022, by VR Porn Reviews.
Introduction
As a big fan of Japanese Porn, I was happy when the JAV VR site JVR Porn came up for review. What could be better than getting into the world of Japanese VR Porn! It didn't take me long before I started to imagine an intense VR blowjob scene with a cute innocent Japanese girl.
If Japan porn is the niche for you and you are ready to explore the virtual world, then you can't miss the chance to intensify your Japanese porn experience with these uncensored Japanese VR porn videos.
Impression
Japanese porn sites always have their kinky themes and there's no exception at JVR Porn with maids, personal teacher, Kimono, Special Dessert, Nurse, After School, Mum's special lesson, and you also get some innocent looking Japanese schoolgirls.
This Japanese VR porn site has a real clean slick look and is easy to navigate, it doesn't take many seconds and you are scrolling through all the hot videos at JVR Porn.
Click on a video and you will get to see screenshots and downloads options for the video. There is not so much information about the scene, but the screenshots give you a good idea about the content of the video. With a wide variety of themes with authentic Japanese girls, it won't be hard for you to find a VR Japan sex scene that catches your interest.
In the "HELP" section can you get help with setting up the VR device of your choice. It's real easy to click on the "HELP" link from the top menu and then you will see the different VR devices, just click on the device that you use and you get the setup for the particular VR device.
The Uncensored JAV VR Videos
I assume that you are already into porn from Japan and now want to take the next step into the Japanese VR porn world. I counted 124+ Japanese VR uncensored videos in January 2021. Each video is about 10-40 min long with high-quality scenes with real cute looking girls.
There are no search options, but you will find it easy to scroll through all the videos.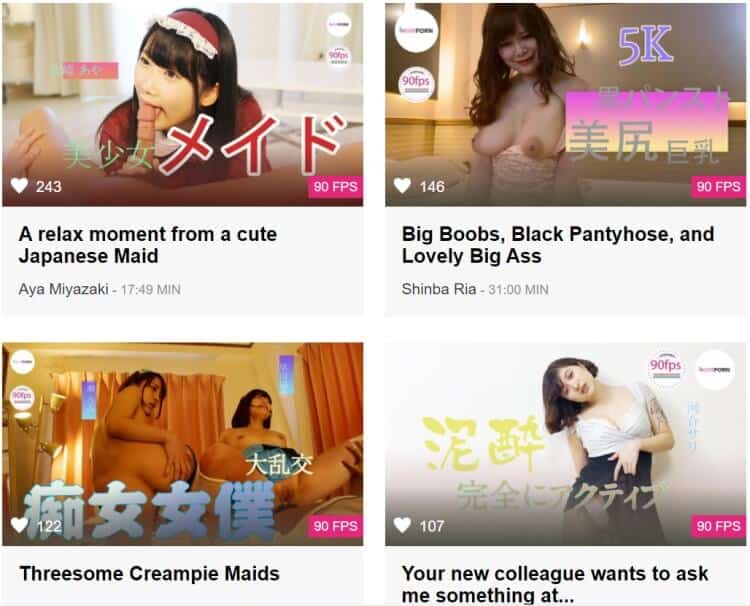 These virtual xxx videos really take you into the world of VR porn and give you that feeling that it's almost real. I'll tell you this once you go VR you won't go back. I downloaded a few scenes for this JVRPorn review and one video that I would recommend is 'Special training between mom and daughter' here you get to see a mom when she teaches her cute Japanese daughter her sex skills and you are right there in the video that goes on for 40 min!
When you scroll through the page you'll notice so many interesting titles. I'm a big fan of Japanese porn so I'll come back here to watch more later as I didn't have enough time when I was researching the site for this review.
Format
These Japanese sex VR videos come with top quality 90 fps 4K in 3D with Binaural Sound ( they also now added videos in 5K & 6K).
Videos are easy to download, click on a video, and then choose the VR Gear that you are using to start the download. JVPorn is compatible with most of the VR Devices on the market, such as Google Cardboard, Playstation VR, Oculus, Gear, Daydream, Vive, etc. Check out their 'Help' section for setting up your VR Device.
Price & Memberships
There are 3 different membership options:
3 Days for $9.99 (A trial membership gives you unlimited streaming and 3 downloads)
1 Month $29.99
6 Months – $69.99 ($11.66 per month)
1 Year $199.88 ($9.99 per month)
Conclusion
With 124+ uncensored Japanese VR porn videos, this virtual reality site is really worth joining for Japanese porn lovers. It really delivers when it comes to the quality of the scenes, the authenticity of the AV models, and a variety of categories.
If you first want to try out the site, I recommend signup for the trial membership for $9.99 which gives you 3 JAV VR videos.
If you haven't tried VR porn yet and you get turned on by Japanese girls, then this site is a must-see!
Recommended Reviews For You